Powerful business transforming habits we're hanging onto in 2019
Last week, I penned a heartfelt piece about the self-sabotaging habits that have been holding me back in business (and, very likely, in life).
It was honest. It was real. It was authentic. Possibly painfully relatable. Hopefully inspiring action. And, it was both difficult and easy to write.
It went off on social media. It's received more engagement than any piece of content I've posted in the past few months. It's been shared by others on Instagram Stories and LinkedIn, and I've received countless emails and messages from other business owners saying how they found it both relatable and inspiring. As a self-confessed over-achiever, the skyrocketing numbers coupled with a positive reception from the Young Folks community is the kind of stuff that gets me on a professional high. And, in the spirit of honesty, I blew my 'using social media with intention' goal with obsessive checking of social media engagement the day this post went live [file under: the exception, not the rule]
Being a digi geek and total numbers nerd, it would be easy to just keep on producing the kind of authentic and vaguely self-loathing content that seems to resonate in content marketing. But, being authentic and honest to the point of constant negativity is all kinds of messed up. Right?
Instead, off the back of my post on self-sabotaging habits I'm ditching in 2019, I'm bringing you a post that's celebrating the positive habits I plan to continue. Because, y'know what? I did some pretty awesome things last year that have propelled this business forward. I believe it's okay to be proud of that. It's okay to talk about the positives. After all, success is not a dirty word, and talking about it shouldn't be a taboo subject.
So here are the powerful, business transforming habits I'm hanging onto in 2019.

1. Being my clients' biggest cheerleader
At Young Folks Digital, we work with clients in a range of different industries—retail, publishing, packaging, sustainability, real estate, education, technology, and more. And, these clients are all at various stages in their business journey. Some are brand new startups and others are large established businesses turning over tens of millions.
Whatever their stage or industry, I've always made an effort to cheer from the sidelines. And with more brands humanising their content on social media, it's literally so easy to keep up-to-date with what my clients are up to and sling them a DM. Being a total people person, I also find this incredibly easy to do because I just love talking to people [I am literally the person you'll get stuck talking to. I apologise in advance].
Being a cheerleader has resulted in some absolutely amazing word of mouth, and really positive reviews to share across marketing channels. Social proof, for the win.  

2. Always paying myself
Recently, I've seen a whole host of posts—often shared by female founders—about not paying yourself in the early stages of business. And I'm like da fuq?! Running a business is not a hobby. You gotta pay yourself, even if it's just a little bit.
Right from day one I've paid myself. It hasn't always been a consistent amount. It hasn't always been a glorious corporate salary. And yes, there have been times that I've needed to reinvest in the business. But I've always, always paid myself. This is my job, after all.
Typically, I work out how much I'd like to earn annually and then break that down into months, and then break that down into what value I'd need to deliver to clients to meet those monthly financial targets [file under: goal setting, and financial targets].
Another, albeit more passive, option is to simply pay yourself a percentage of whatever revenue you take. That means a percentage to tax and GST, a percentage to super, a percentage to overheads, a percentage back into the business, and a percentage for pay. It's a bit more of a relaxed approach for getting started.
Paying myself literally means my work supports my life as a whole. It might mean the business grows more slowly, but I'd rather grow sustainably than rapidly—which would likely result in burn out and, inevitably, shutting up shop.
Necessary disclaimer: this is not financial advice, and you should ab-so-fricken-lutely speak to your accountant or financial advisor on how to best structure your business finances.  

3. Aligning my marketing strategy with my business plan
When I first started Young Folks Digital, I made sure I got really clear on a couple of things: what Young Folks offers, who we offer it to, our unique selling point, and how much money we need to make to keep our doors open. It's a business plan in its crudest and most basic form [sometimes, I make my accountant proud] and it has, of course, evolved since launching.
With this very simple business plan, I mapped out a marketing strategy designed to build a community and drive qualified leads—the kind that would take up Young Folks service offering, either now or in the future. And I made sure my content demonstrated my brand values and purpose, and really sought to connect with the community.
Having a business plan that underpins my marketing strategy has resulted in consistent and sustainable growth. It's also helped me be more efficient with my time and be able to measure the impact of various marketing activity and campaigns.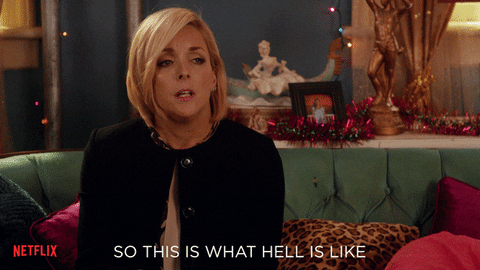 4. Networking in a non-slimy way
Networking is such a dirty word, right? Just the thought of it gives me weird stomach flip [but not in a good way] vibes kind of like the word 'moist', or the sound of someone eating a banana right next to your ear. Ew.
10 years in corporate have taught me that the networking hour at every conference and meet-up always results in some super sleazy salesperson making a beeline for you across the room with a fistful of business cards. I'm like, seriously, why don't you just stand at the top of the staircase and drop a bunch of those cards down on all of us—like house party invites in 90s teen movies. Make it rain.
Instead of networking like that, I've made a point of connecting authentically with people who I truly look up to and am inspired by. I've shared content that's relatable and it's brought some brilliant like-minded individuals into my world. I've genuinely engaged with and commented on social media content and blog posts of people who I look up to.
I've never pushed for anything or made it all about me and what I want or need. Always just about genuine connection. Writing that out makes it sound a bit manufactured, but I can assure you it's 100 percent genuine. My poker face is bad, I can't fake anything.
And surprise, surprise, this has resulted in some beautiful professional connections and even some flourishing new friendships.
Turns out, 'networking authentically' is basically just being a nice person. And it works.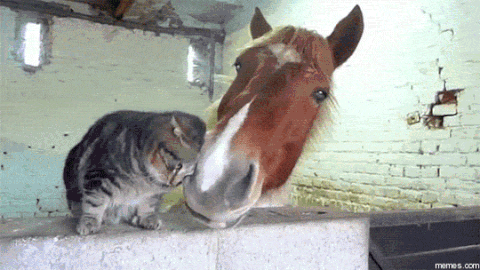 5. Being kind
I'm a rose coloured glasses kind of gal, so something I *really* didn't expect to encounter in the small business arena was all the drama.
I mean sure, corporate environments have their fair share of drama: bureaucracy, office politics, gaslighting managers, Derek from finance not paying your expenses in this month's pay run because you filled out your form incorrectly, and Karen from IT who ignores support requests until you march into the IT cave and ask in person.
But yikes, the small business sector has some serious dramz. And because of social media, it's often aired quite publicly. Blergh. No thanks.
My MO? Always be kind. Being an empathic leader, this sometimes means working outside of scope to ensure a client is happy, or doing extra hours on content marketing to ensure the community feels served by Young Folks content [can you hear my accountant screaming, again?]. Being kind is a choice. And when people tell me I am kind, and my business is authentic and good, it makes me feel awesome. It also happens to be a key feature in word of mouth for this little business… so I will continue being kind.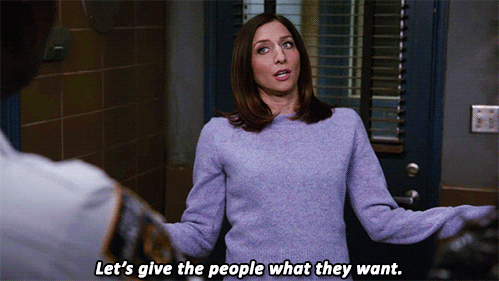 6. Genuinely adding value
Part of my kindness ethos means I'm all about genuinely helping clients. If they're stuck on a decision or need help workshopping an idea, I'm all for chatting it through – often in an unofficial mentoring capacity. In fact, I've written full marketing plans for a few clients who just didn't know where to start. And they've gone on to follow them to a tee and absolutely smash their goals.
On the flip side, I've had a few clients book in for digital marketing services when their website is truly not optimised to drive conversions. And when you ramp up digital marketing with a poorly optimised website it's kind of like trying to store water in a leaky bucket. You can do it, but it doesn't work for long and is ultimately ineffective.
These clients? I've had a really honest chat with and advised them to invest the budget they had set aside for marketing in optimising their website instead. And while this kind of advice makes Young Folks Digital absolutely no money – even after time spent prospecting, and doing discovery calls and initial audit of the landscape – it makes sense.
Because if we run digital marketing activity for a client with a poor quality website, we actually won't be able to achieve the financial targets and degree of marketing efficiency that makes for sustainable growth and a positive ROI. The client will likely end up disappointed and feel like we've taken their money and done a bad job. Not a great outcome for anyone. Eh.
After one of these 'you should probably not invest in marketing with us' chats, one client thanked me for my honesty, and for making a decision that was detrimental to my own business finances. And guess what? She's got a flash new website and is looking to ramp up digital marketing in 2019. Couldn't have asked for a better outcome.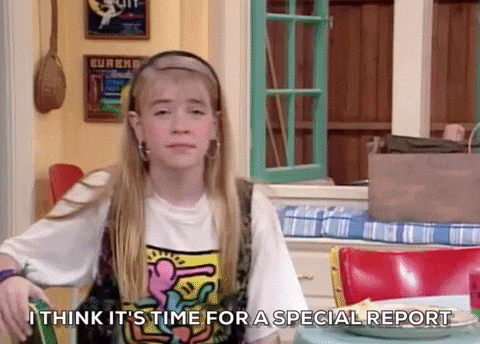 7. Actually doing reporting
Reporting. So easy to overlook if it's not your jam or you're just busy working in the business. But far out, doing reporting for my clients has been incredibly helpful and so it made sense to run reporting for Young Folks Digital, too.
We've kept our reporting fairly top line for now, and will make it more robust and complex as required. Basically? Each month I'm looking at revenue, overheads, and margins. Plus, current clients, number of proposals in the wind, and new leads. Then, the marketing activity that has influenced this. Finally, how much money we need to make to hit monthly, quarterly and annual targets.
It's not complicated. It's totally top line. And it makes it really easy to identify what's working well and what we need to change in order to continue to thrive.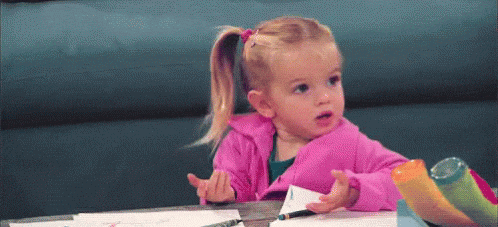 8. Outsourcing to the experts
Things I'm good at: digital marketing, creative ideation, strategy development, marketing campaign analysis, copywriting, big picture thinking and detailed implementation. Things I'm not so good at [or don't enjoy doing]: chasing invoices, reconciling purchases in Xero, looking at my business finances objectively, proof reading my own work, and asking for what I am worth [dream hire = BDM or account manager].
And so, I've outsourced these things that I am not so good at to experts who are really, really good at them. Bookkeeping? Oh-so important, but so not my jam. I'd rather be marketing. But Aimee from Business Lane? She's a total bookkeeping gun, and I've happily outsourced quarterly BAS and am about to hand over monthly bookkeeping and payroll. Phew. Can't wait to have that off my list.
Business advisory with a big emphasis on financials? I'm good at budgeting, just ask my partner Ben [the spreadsheets and multiple accounts might drive him up the wall… just a bit]. But when it comes to my business it's actually super hard to be objective. So this year, I've signed up to monthly advisory with Illumin8—the legendary accountants from Mount Eliza on the Mornington Peninsula.
Back in the corporate days when I was in-house, I actually loved my monthly finance meeting with the CFO and CEO. They asked the hard hitting questions and reviewed the numbers in an extremely critical way and it truly propelled the business forward. So I can't wait to start that for my own business.
And finally, I've organised some support with proofreading and marketing administration by way of a network of proofreading professionals and an in-house marketing assistant who's coming in two days a week.
What powerful habits have you implemented in your business?